Lord of the Rings: The Fellowship of the Ring - 2 Disc Edition
Genre: Fantasy
Running Time: 171 Minutes
Certificate: PG
Sound: Dolby Digital EX 5.1
Aspect Ratio: Anamorphoic Widescreen 2.35:1
Starring: Elijah Wood, Ian McKellen, Liv Taylor, Viggo Mortensen
Directed By: Peter Jackson
Produced By: Peter Jackson
Movie: 5/5
Special Features: 4/5
Based upon the Lord of the Rings by J.R.R. Tolkien
This 2 disc DVD contains the hugely successful Lord of The Rings DVD and a 2nd disc packed with special features, and is a must for any fantasy fans movie collection.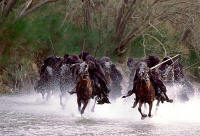 With the help of a courageous fellowship of friends and allies, Frodo embarks on a perilous mission to destroy the legendary One Ring. Hunting Frodo are servants of the Dark Lord, Sauron, the ring's evil creator. If Sauron reclaims the ring, Middle-earth is doomed. Winner of four academy awards, this epic tale of good versus evil, and sacrifice will transport you to a world beyond imagination"
SPECIAL FEATURES
DISC ONE
| | |
| --- | --- |
| | Lord of The Rings: The Fellowship of The Ring |
DISC TWO
| | |
| --- | --- |
| | Ten Minute Preview Of The Two Towers |
| | Houghton Mifflin Welcomes You To Middle Earth Featurette |
| | Quest For The Ring: Fox Network TV Special |
| | The Path To Middle Earth: Sci-Fi Channel TV Special |
| | Eight Internet Documentary Shorts |
| | Three Theatrical Trailers |
| | Six TV Spots |
| | 'May It Be Me' Enya Music Video |
| | EA Video Game Preview |
| | Preview Of The Extended DVD Version Presented By Peter Jackson |