Swordfish
Genre: Action
Running Time: 96 minutes
Certificate: 15
Sound: Dolby Digital 5.1
Aspect Ratio: 2:35:1
Starring: John Travolta, Hugh Jackman, Halle Berry and Don Cheadle
Directed By: Dominic Sena
Produced By: Joel Silver and Jonathan D. Krane
Written By: Skip Woods
Movie: 4/5
Special Features: 3/5
Great action movie with plenty of plot twists.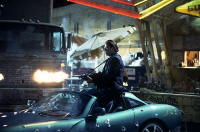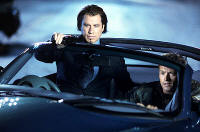 Use a computer, go to prison. The terms of Stanley Jobson's (Hugh Jackman) parole are clear. Yet a $10million payday awaits the superhacker if he takes on a job masterminded by a charistic covert agent - the daring electronic theft of a government slush fund codenamed SWORDFISH. John Travolta plays the suave spy Gabriel Shear, who, with the help of his sizzling partner Ginger (Halle Berry), lures Stanley into their clandestine world where cyber-crime is the 21st century breaking and entering. Vinnie Jones pulls the punches and Don Cheadle is the FBI agent determined to bring them down. The director of Gone in Sixty Seconds and the producer of the Matrix combine to deliver the hottest and most electrifying thrill ride.
SPECIAL FEATURES
| | |
| --- | --- |
| | Audio Commentary by director |
| | Making of Swordfish |
| | The Effects in Focus |
| | 2 Alternate Endings |
| | DVD-ROM features |
| | Trailer |