Terminator 2: Judgment Day- 2 Disc Ultimate Edition
Genre: Action
Running Time: 147 minutes
Certificate: 15
Sound: Dolby Digital EX 5.1 and DTS
Aspect Ratio: 2:35:1
Starring: Arnold Schwarzenegger, Linda Hamliton, Robert Patrick and Edward Furlong
Directed By: James Cameron
Produced By: James Cameron
Written By: James Cameron and William Wisher
Movie: 5/5
Special Features: 5/5
This 2 disc DVD contains the special edition Terminator 2 DVD with re-inserted deleted scenes and a 2nd disc with a huge amount of special features, making this truly the ultimate Terminator 2 DVD version.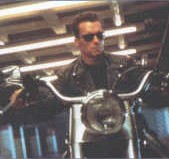 Arnold Schwarzenegger is back as the cyborg from the future in the most successful sequel of all time. Almost ten years have passed since Sarah Connor's ordeal began, her son John, the future leader of the resistance, is now a healthy young boy. However, the nightmare begins again when a new, more deadly Terminator is sent back in time, its orders - to strike at John Conner while he is still a child. Sarah and John, however, don't face this terrifying Terminator alone. The human resistance has sent back another warrior from the future, its orders - to protect John Connor at any cost - the battle for tomorrow has begun.
SPECIAL FEATURES
DISC ONE
| | |
| --- | --- |
| | Terminator 2 Special Edition Version |
| | Audio Commentary |
| | Cast & Crew |
| | THX Test Signal Package |
DISC TWO
| | |
| --- | --- |
| | Deleted Scenes |
| | Screenplay |
| | Storyboards (Over 700) |
| | Teaser Trailer |
| | Theatrical Trailers |
| | T2 Special Edition Trailer |
| | Video Archive (60 video clips) |
| | Data Archive (Over 3000 stills |
| | The Making of T2 Featurette |
| | T2 More than Meets the Eye Featurette |
| | The Making of T2 - 3D: Breaking the Screen Barrier |