The Cell
Genre: Psychological Thriller
Running Time: 104 minutes
Certificate: 18
Sound: Dolby Digital 5.1
Aspect Ratio: 16:9
Starring: Jennifer Lopez, Vince Vaughn and Vincent D'Onofrio
Directed By: Tarsem Singh
Produced By: Julio Caro and Eric Mcleod
Written By: Mark Protosevich
Movie: 5/5
Special Features: 3/5
Another one of my favourite movies, Jennifer Lopez is brilliant in this action packed film.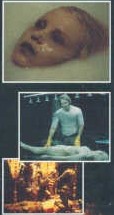 An intensely visual and surreal journey into the depths of a serial killer's mind The Cell is a riveting psychological thriller that will shock you with the horrors of one man's frayed mind. Jennifer Lopez stars in this visually striking serial killer film, that sees her playing a psychiatrist who's experimenting with a device that can help her see into her patient's minds. Meanwhile a killer has been caught but is in a coma, the FBI know he has a woman victim trapped who will die in 48 hours if they cant find her. In a desperate attempt to rescue her, Lopez goes into the mind of the killer to see if she can find the location, only the mind of a killer is a dangerous place to be. With excellent support coming from the ever-cool Vince Vaughn and some very wild sets that represent the dream/nightmare inside the killers mind this is an original and gripping thriller.
SPECIAL FEATURES
| | |
| --- | --- |
| | Commentary by director Tarsem Singh |
| | Trailers |
| | Filmographies |
| | Interactivities |
| | Extras make 57 mins total |