Lara Croft Tomb Raider: The Angel of Darkness
Tomb Raider is one of the most successfully video games series of all time, and now it makes it's first of four appearances on the PS2. Yes The Angel Of Darkness will be the first in a four part book of new Tomb Raider games. To avoid the series becoming repetitive as in recent games of the series, Core has split the development team into two separate units. Each will work on two of the games and they will be released a year apart.

The Angel Of Darkness will be darker, grittier and more emotive, it'll have a complex storyline and altogether more interactive. The game will include more stealth elements than in previous games, put Lara against a wall and you will be able to look around the corner. Lara will now be able to interact with other characters to give a more involving story line. She can gain information from them, obtain a new item or ask for help. Lara will now have more facial expressions, showing more maturity and more anger. She is made up of 5000 polygons, ten times the amount in her PSone outings and will boast over 250 animations. Lara will have new abilities such as hand-to-hand combat. Core Design have revealed that The Angel Of Darkness will be a PS2 exclusive title. For the first time in the series there will be a second playable character, Kuris Trent.

Eidos have revelled a new gameplay element set to feature in the game, which they are calling "Character Evolution". This means that each player is able to improve Lara's abilities depending on how they play the game, therefore no two Lara's in a game will be the same.
Here's what is known of the plot so far: After a desperate phone call from her former mentor, Von Croy, Lara travels to Paris. Von Croy has been approached by a sinister client, named Eckhardt, and has been asked to track down one of five 14th century artworks known as the Obscura paintings. However Lara arrives in Paris to find a city gripped by fear. Von Croy has been the victim of an horrific murder after being framed for the crime, Lara has no option but to go on the run. As she attempts to understand the reasons behind Von Croy's death, Lara becomes involved in the underworld deals, vicious murders, the dark side of an advanced form of alchemy and a history of blood vengeance and betrayal spanning hundreds of years. Lara Croft Tomb Raider: The Angel of Darkness is due out in November.
Wold Rally Championship 02
Evolution studios have revelled its new highly anticipated rally title, World Rally Championship 02. The original game was well received and became a benchmark for future titles. This new game will be bigger, with better visuals and more realistic terrain. The development team have re-written code from scratch to create a totally new game. The renderer (the engine that draws the track) is several times faster can draw two to three times more course than in WRC, there will also be more trackside objects.
The sequel boats 800km of photo-realistic track and over 124 stages across 14 countries. Increased graphical textures help make the terrain look organic rather than artificial. All seven official World Rally Championship cars will be included, as will driver likenesses. The handling of the cars have been improved, and are made of an impressive 16,000 polygons. World Rally Championship 02 is due for release in November.
Virtua Cop: Rebirth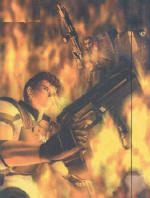 Sega's legendary arcade lightgun series is all set to have a new lease of life with Virtua Cop: Rebirth. The game is actually released in Japan on August 15th, with a European release in the near future. The original made its arcade debut in 1994. The sequel released a year later was much the same, but allowed you to choose from three different characters. This PS2 version will include both of theses games with enhanced visuals. There will be two new modes, Exercise, which features shooting gallery style challenges and Vs, in which two players compete against CPU opponents. Virtua Cop: Rebirth will be compatible with the Namco Gun-Con 2.